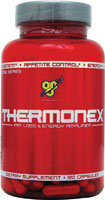 Compare with other Fat Loss
Compare
| | | |
| --- | --- | --- |
| BSN Thermonex Fat Loss and Energy Amplifier | VS | All other Fat Loss |
General

Description
Designed For Healthy Adults 18-50 Years Of Age Seeking To Support Weight Management, Fat Loss, Energy, Performance And Appetite Control.


Warnings
Seek Advice From A Health Care Practitioner Prior To Use If You Have Any Pre-existing Medical Condition Including (but Not Limited To): High Blood Pressure, Heart, Liver, Or Thyroid Disease, Diabetes, Psychiatric Disease, Pernicious Anemia, Anxiety, Depression, Seizure Disorder, Cardiac Arrhythmia, Stroke, Difficulty Urinating Due To Prostate Enlargement, Or If You Are Taking An Mao Inhibitor, Or Any Other Prescription Drug. Do Not Use If You Are Pregnant Or Nursing. Reduce Or Discontinue Use If Sleeplessness, Tremors, Dizziness, Nervousness, Headaches, Or Heart Palpitations Occur. For Use By Healthy Adults Only. Not Intended For Use By Persons Under The Age Of 18. After 12 Weeks Of Use, Discontinue For At Least 4 Weeks.


Free Of
Ephedra.


Disclaimer
These Statements Have Not Been Evaluated By The Fda. These Products Are Not Intended To Diagnose, Treat, Cure, Or Prevent Any Disease.


Count

120 Capsules

(71.3 Capsules higher than average)

vs


Servings

40

(14.3 higher than average)

vs


Weight

0.23

lb

(1.28 lb lower than average)

vs


Serving Size

3 Capsules

(0.64 Capsules lower than average)

vs


Directions
As A Dietary Supplement, Take 3 Capsules 2 To 3 Times Daily 30 Minutes Before Meals And/or Exercise. Begin Use With Half The Recommended Dosage (2 Capsules 2 To 3 Times Per Day) To Assess Your Tolerance. To Avoid Sleeplessness, Do Not Take Within 4 Hours Of Bedtime. Drink At Least 8-10 Glasses Of Water A Day. Experienced Thermogenic Users May Achieve Maximum Fat Loss And Energy Enhancement At A Dose Of 4 Capsules 3 Times Per Day. For Best Results, Take 3-4 Capsules 3 Times Daily And Use As Part Of A Low-fat Diet And Exercise Program. Do Not Exceed 12 Capsules Within A 24-hour Period.


Other Ingredients
Magnesium Stearate And Gelatin.


Supplement facts

L-Tyrosine

300 mg

(1092.12 mg lower than average)

vs


Naringin
vs


Caffeine Anhydrous
vs


Green Tea Extract (Catechins 243 mg/ EGCG 112 mg)
vs


Octopamine HCl
vs


Evodiamine 98%
vs


Yerba Mate (25% extract standardized for xanthines)
vs


Synephrine (10% extract from citrus aurantium and standardized for synephrine, tyramine, n-methyl-tyramine, and hordenine)
vs


Diiodotyrosine
vs


Iodotyrosine
vs