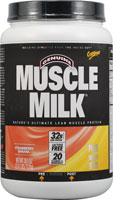 Compare with other Fat Loss
Compare
| | | |
| --- | --- | --- |
| CytoSport Muscle Milk Strawberry Banana | VS | All other Fat Loss |
General

Description
Building Athletes From The Inside Outnature's Ultimate Lean Muscle Proteintaste Satisfaction Guaranteednaturally Fresh Strawberrycontains Only Natural Flavors And Sweetenerspre / Post32g Lean Proteinlactose Free20 Vitamins & Mineralsmanufactured Free Of Banned Substances In A Nsf Gmp For Sport Registered Facility When Muscle Milk Was First Introduced, We Attempted To Emulate Human Mother's Milk, One Of Nature's Most Complete And Balanced Foods. In Doing That, Muscle Milk Created A New Category Of Protein Products, While Setting A New Standard For Both Taste And Performance. As A Result, Muscle Milk Has Become America's Favorite Protein Drink. Precision Protein Blend Muscle Milk Contains A Precise Blend Of Proteins Designed To Create The Optimal Environment For Exercise Recovery And Muscle Growth. This Precision Protein Blend Contains Rapid-releasing Whey And Slower Digesting Micellar Caseins From Milk Protein Isolate/concentrate Plus Calcium And Sodium Caseinates. This Creates A Constant Supply Of Amino Acids, The Building Blocks Of Muscle Tissue. Choose The Right Kind Of Fat! The Lean Lipids Used In Muscle Milk Are More Likely Burned For Muscle Energy And Heat Than Stored As Fat. Medium-chain Triglycerides (mct), The Pre-digested, Fast-burning Fats Help Provide The Caloric Energy Needed To Fuel Exercise And Recovery. Polyunsaturated And Monounsaturated Fatty Acids From Anola And Sunflower Oil Provide Essential Omega-3, 6, And 9 Fatty Acids. Choose Carbohydrates Wisley Low-sugar, High-fiber Complex Carbs Are An Important Part Of A Healthy, Active Lifestyle. The Starch-based Complex Carbs Found In Muscle Milk Supply Energy To The Body In The Form Of Glucose. Glucose Is The Only Energy Source For Red Blood Cells And A Preferred Energy Source For Anaerobically.


Free Of
Lactose, Banned Substances.


Disclaimer
These Statements Have Not Been Evaluated By The Fda. These Products Are Not Intended To Diagnose, Treat, Cure, Or Prevent Any Disease.


Count

2.47 oz

(46.23 oz lower than average)

vs


Servings

32

(6.3 higher than average)

vs


Weight

2.88

lb

(1.37 lb higher than average)

vs


Serving Size
35 G Approx 1 Scoop


Directions
Mix 1 Scoop (35g) Into 5-6 Fl. Oz. Water. Mix Two Scoops In 10-12 Fl. Oz. Water. Want Even More Satisfaction? Mix With Low-fat Milk. Tastes Like A Real Milk Shake. Honest! Muscle Milk Can Be Used Before Workouts, After Workouts, Or Prior To Bedtime. Individual Nutritional Requirements Vary Depending On Gender, Body Weight, Level Of Activity And Exercise/training Intensity. Cytosport Products Complement A Healthful Eating And Hydration Plan That, When Combined With A Balanced Exercise Program, May Contribute To Healthy Weight Management And Recovery From Exercise. Use 1-3 Servings (35g Per Serving) Per Day As Part Of A Well-balanced Diet That Includes Whole Foods And Other Protein Sources. Do Not Use This Product As Your Sole Source Of Nutrition.


Other Ingredients
Protein Blend (calcium And Sodium Caseinate, Milk Protein Isolate And/or Concentrate, Whey Protein Isolate And/or Concentrate, Whey Peptides, Lactoferrin, L-glutamine, Taurine), Lean Lipids Blend (sunflower Oil, Medium Chain Triglycerides, Canola Oil, L-carnitine), Maltodextrin, Alkalized Cocoa Powder, Soluble Corn Fiber, Crystalline Fructose, Natural And Artificial Flavor, Vitamin Mineral Blend, Potassium Bicarbonate And/or Potassium Chloride, Fructooligosaccarides, Stevia, Salt, Lo Han Extract, Soy Lecithin. Vitamin And Mineral Blend Tricalcium Phosphate, Magnesium Oxide, Dl-alpha Tocopheryl Acteate, Ascorbic Acid, Ferrous Fumarate, Niacinamide, Vitamin A Acetate, Zinc Oxide, Copper Gluconate, D-calcium Pantothenate, Cholecalciferol, Pyridoxine Hydrochloride, Chromium Polynicotinate, Thiamine Mononitrate, Riboflavin, Folic Acid, D-biotin, Potassium Iodide, Cyanocobalamin. Contains Ingredients Derived From Milk And Soy This Product Is Manufactured In A Facility That Processes Milk, Soy, Wheat, And Eggs.


Supplement facts

Total Carbohydrates

9 g

(2.33 g higher than average)

vs


Dietary Fiber

2 g

(0.1 g higher than average)

vs


Calories

150

(18.34 lower than average)

vs


Sugars

2 g

(0.26 g lower than average)

vs


Potassium (K)

130 mg

(126 mg higher than average)

vs


Sodium (Na)

160 mg

(26.23 mg higher than average)

vs


Total Fat (lipids)

6 g

(2.81 g higher than average)

vs


Saturated Fat

3 g

(1.89 g higher than average)

vs


Protein

16 g

(12.1 g lower than average)

vs


Cholesterol

15 mg

(16.67 mg lower than average)

vs


Calories From Fat

50

(20.29 higher than average)

vs