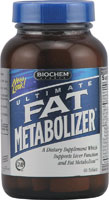 Compare with other Fat Loss
Compare
| | | |
| --- | --- | --- |
| Biochem Sports Ultimate Fat Metabolizer | VS | All other Fat Loss |
General

Description
A Dietary Supplement Which Supports Liver Function And Fat Metabolism.


Warnings
Pregnant Or Lactating Women Should Consult A Health Care Professional Before Using Any Product.diabetics/hypoglycemics: Use Only Under The Care Of A Health Care Professional. This Product May Enhance Insulin Sensitivity, And May Affect Your Blood Glucose Levels.


Free Of
Yeast, Corn, Wheat, Gluten, Milk, Salt, Sugar, Starch, Preservatives Or Artificial Color.


Disclaimer
These Statements Have Not Been Evaluated By The Fda. These Products Are Not Intended To Diagnose, Treat, Cure, Or Prevent Any Disease.


Count

90 Tablets

(41.3 Tablets higher than average)

vs


Servings

30

(4.3 higher than average)

vs


Weight

0.79

lb

(0.72 lb lower than average)

vs


Serving Size

3 Tablets

(0.64 Tablets lower than average)

vs


Directions
Adults Take Three (3) Tablets Before A Meal Or If Preferred Take One (1) Tablet Three (3) Times Daily Before Meals.


Other Ingredients
Cellulose, Stearic Acid, Magnesium Stearate, Cellulose & Glycerin Coating, Silica, Calcium Silicate.


Supplement facts

Inositol

500 mg

(242.5 mg higher than average)

vs


Taurine (free form)
vs


L-Methionine (free form)
vs


Phosphatidylserine
vs


Phosphatidylethanolamine
vs


Dandelion Extract 4:1 (root)
vs


Vitamin B6 (as pyridoxine alpha-ketoglutarate, pyridoxal 5' phosphate)
vs


Chromium (as chromium polynicotinate & chromium picolinate)
vs


L-Carnitine (from 500 mg of L-Carnitine tartrate)
vs


Phospatidylinositol
vs


Choline (from 500 mg of choline bitartrate)
vs


Trimethylglycine (from 200 mg of trimethylglycine HCl)
vs


Artichoke Extract (leaf)(5% cynarin equal to 7.5 mg)

150.3 mg

(equals average)

vs


Barberry Extract (bark/root)
vs


Milk Thistle (seed)(79% silymarin equal to 70 mg)
vs