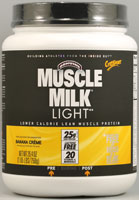 Compare with other Fat Loss
Compare
| | | |
| --- | --- | --- |
| CytoSport Muscle Milk Light Banana Creme | VS | All other Fat Loss |
General

Description
25g Protein Burn Fat! Don't Store It! Over 50% Of Total Calories From Energy Sustaining, Lean Muscle Supporting, High Quality Protein Cytosport Has Been Overwhelmed By The Amazing Success Of Muscle Milk. If There Has Been One Repeated Request, It's "make Muscle Milk With Less Fat And Fewer Calories, But Keep The Same Great Taste As Muscle Milk!" Well, We Heard You. Introducing Muscle Milk Light Same Great Performance Same Great Taste 1/3 The Fat And 44% Fewer Calories Than Original Muscle Milk. Muscle Milk Light Is Scientifically Designed For Individuals Who Want To Maximize Lean Muscle Gains While Reducing Caloric Intake To Help With Weight Management Or Weight Loss. Maintaining Healthy Blood Sugar Levels Is The Key To Responsible Weight Control. Snack Cravings And Low Energy Levels Are Often The Result Of Poor Blood Sugar Management. With Proper Management, You Don't Have To Sacrifice How You Feel While You Change How You Look. When Used With Balanced, Portion Controlled Meals, Muscle Milk Light Ensures Proper Energy And Amino Acid Availability. This Results In More Daily Energy, Less Hunger Cravings, And More Normalized Insulin Levels.


Warnings
This Product Contains Ingredients Derived From Milk And Soy.


Disclaimer
These Statements Have Not Been Evaluated By The Fda. These Products Are Not Intended To Diagnose, Treat, Cure, Or Prevent Any Disease.


Count

1.65 lbs

(47.05 lbs lower than average)

vs


Servings

15

(10.7 lower than average)

vs


Weight

2

lb

(0.49 lb higher than average)

vs


Directions
For A Rich, Satisfying Shake, Mix Two Scoops (50g) Into 10-12 Fl-oz Of Cold Water. Use 2-3 Servings Per Day.


Other Ingredients
Evopro(tm) (micellar Alpha And Beta Caseins And Caseinates, Whey Concentrates Rich In Alpha-lactalbumin, Whey Isolates, Whey Peptides, Glutamine Peptides, L-taurine, Lactoferrin), Maltodextrin, Leanlipids(tm) (trans Fat Free Lipid Complex Consisting Of Sunflower And/or Safflower Oil, Mct's, Canola Oil, L-carnitine), Cocoa Powder, Cytovite I(tm) (vitamin And Mineral Premix Consisting Of Vitamin A Acetate, Cholecalciferol, D-alpha-tocopherol Acetate, Ascorbic Acid, Folate, Thiamine Monohydrate, Riboflavin, Niacinamide, Pyridoxine Hcl, Cyanocobalamin, Biotin, Pantothenic Acid, Di-calcium Phosphate, Potassium Iodide, Potassium Chloride, Ferrous Fumerate, Magnesium Oxide, Copper Gluconate, Zinc Oxide, Chromium Nicotinate), Fructose, Natural And Artificial Flavors, Acesulfame Potassium, Cellulose Gum, Xantham Gum, Carrageenan, Sucralose, Soy Lecithin.


Supplement facts

Total Carbohydrates

11 g

(4.33 g higher than average)

vs


Dietary Fiber

1 g

(0.9 g lower than average)

vs


Calories

195

(26.66 higher than average)

vs


Sugars

2 g

(0.26 g lower than average)

vs


Calcium (Ca)

600 mg

(429.96 mg higher than average)

vs


Magnesium (Mg)

140 mg

(72.3 mg higher than average)

vs


Phosphorus (P)

350 mg

(216.19 mg higher than average)

vs


Potassium (K)

420 mg

(416 mg higher than average)

vs


Sodium (Na)

125 mg

(8.77 mg lower than average)

vs


Zinc (Zn)
5 mg


Iron (Fe)

6 mg

(4.63 mg higher than average)

vs


Copper (Cu)
0.7 mg


Vitamin A (IU)

1750 IU

(1005.8 IU higher than average)

vs


Vitamin C (total ascorbic acid)

21 mg

(28.04 mg lower than average)

vs


Vitamin D
140 IU


Vitamin E (alpha-tocopherol)
11 IU


Thiamin
1 mg


Niacin
7 mg


Pantothenic acid
4 mg


Total Fat (lipids)

6 g

(2.81 g higher than average)

vs


Saturated Fat

2.5 g

(1.39 g higher than average)

vs


Protein

25 g

(3.1 g lower than average)

vs


Cholesterol

5 mg

(26.67 mg lower than average)

vs


Calories From Fat

50

(20.29 higher than average)

vs


Biotin

105 mcg

(35.2 mcg lower than average)

vs


Chromium

180 mcg

(127.5 mcg higher than average)

vs


Vitamin B6
0.7 mg


Vitamin B12
2 mcg


Folate
vs


Iodine
53 mcg