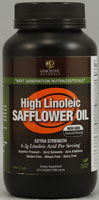 Compare with other Fat Loss
Compare
| | | |
| --- | --- | --- |
| Genceutic Naturals High Linoleic Safflower Oil | VS | All other Fat Loss |
General

Description
Next Generation Nutraceuticals Extra Strength Non-gmo Natural Source 6.2 Mg Linoleic Acid Per Serving Expeller Pressed - Zero Solvents - Zero Additives Gluten Free - Wheat Free - Dairy Free 4 Week Supply Due To Recent And Exciting Research Studies, Scientists Are Exploring The Many Potential Health Benefits Of High Linoleic Safflower Oil. A Recent University Double Blind Cross-over Study Comparing High Linoleic Safflower Oil To Conjugated Linoleic Acid (cla), Showed That It May Help To Reduce Trunk Adipose (belly Fat), Support Insulin Sensitivity, Maintain Healthy Blood Glucose And Support A Healthy Response To Inflammation. This High Linoleic Safflower Oil Is An All-natural, Non-gmo, Expeller Pressed Oil Without The Use Of Any Harsh Solvents Or Additives.


Free Of
Gmo, Gluten, Wheat And Dairy.


Disclaimer
These Statements Have Not Been Evaluated By The Fda. These Products Are Not Intended To Diagnose, Treat, Cure, Or Prevent Any Disease.


Count

224 Softgels

(175.3 Softgels higher than average)

vs


Servings

28

(2.3 higher than average)

vs


Potency

1089 mg

(544 mg higher than average)

vs


Weight

0.9

lb

(0.61 lb lower than average)

vs


Serving Size
8 Softgels (8712 Mg)


Directions
For Adults: Take 8 Softgels Daily. Take 2 Softgels 3 Times A Day With Food And Take An Additional 2 Softgels At Night. For Best Results, Use For At Least 12 Weeks In Conjunction With A Calorie-controlled Diet And Exercise Program. Consume 8-10 Glasses Of Water Per Day. Protect From Heat, Light And Moisture.


Other Ingredients
Safflower Oil, Gelatin, Glycerin And Water.


Supplement facts

Calories

80

(88.34 lower than average)

vs


Total Fat (lipids)

9 g

(5.81 g higher than average)

vs


Saturated Fat

1 g

(0.11 g lower than average)

vs


Polyunsaturated Fat
7 g


Monounsaturated Fat
1 g


Calories From Fat

80

(50.29 higher than average)

vs


Oleic Acid
vs


Stearic Acid
vs


Palmitic Acid
vs


Linoleic Acid

6272 mg

(6266 mg higher than average)

vs


Other Fatty Acids
vs