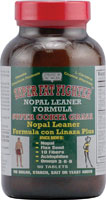 Compare with other Fat Loss
Compare
| | | |
| --- | --- | --- |
| Only Natural Super Fat Fighter | VS | All other Fat Loss |
General

Description
Nopal Leaner Formula - Includes:-- Nopal-- Flax Seed-- 10 Fibers-- Acidophilus-- Omega 3-6-9 Proper Functioning Of The Intestinal Tract Depends Upon The Presence Of Adequate Dietary Fiber. Only Natural's Super Fat Fighter Provides A Balance Of Crude And Dietary Fibers Which Include Gums, Pectins, Hemicellulose And Polysaccharides Derived From Grain, Fruit And Vegetable Sources. The Dietary Fiber Of Soluble Fiber Such As Nopal, Flaxseed, Hoodia, Oat Bran, Psyllium, Glucomannan And Pectin Promotes Metabolism Of Fats & May Decrease Cholesterol Absorption. This Natural Bulk Producing Combination Of Fibers Helps Promote Normal Elimination In A Natural Manner. In Addition, The Super Fat Fighter Formula Has Been Combined With Enzymes, Minerals, And Acidophilus - All Necessary In Helping Maintain A Healthy Intestinal Tract.the Super Fat Fighter Will Help Give A "fiber-generated" Full Feeling, While Increasing The Nutritional Value Of Your Diet Program By Adding Additional Fiber To The Diet.


Warnings
This Product Contains Cascara Sagrada And Aloe Vera. Read And Follow Directions Carefully. Do Not Use If You Have Or Developed Diarrhea, Loose Stools, Or Abdominal Pain Because Cascara Sagrada And Aloe Vera May Worsen These Conditions And Be Harmful To Your Health. Consult Your Physician If You Have Frequent Diarrhea Or If You Are Pregnant, Nursing, Taking Medication, Or Have A Medical Condition.do Not Exceed Recommended Dosage.


Free Of
Added Sugar, Starch, Salt And Yeast.


Disclaimer
These Statements Have Not Been Evaluated By The Fda. These Products Are Not Intended To Diagnose, Treat, Cure, Or Prevent Any Disease.


Count

90 Tablets

(41.3 Tablets higher than average)

vs


Servings

30

(4.3 higher than average)

vs


Weight

0.68

lb

(0.83 lb lower than average)

vs


Serving Size

3 Tablets

(0.64 Tablets lower than average)

vs


Directions
Adults One/two Tablets With 8 Ounces Of Water Three Times Daily On An Empty Stomach, Or Five Minutes Before A Meal.


Supplement facts

Calories

1

(167.34 lower than average)

vs


L-Carnitine
vs


Inositol

15 mg

(242.5 mg lower than average)

vs


Coenzyme Q10
vs


Spirulina
vs


Apple Pectin
vs


Potassium (as citrate)
vs


Calcium (as calcium carbonate)

10 mg

(26.67 mg lower than average)

vs


Chromium (picolinate)

15 mcg

(5 mcg lower than average)

vs


Lecithin

50 mg

(25 mg lower than average)

vs


Beet Fiber
vs


Cascara Sagrada Extract
vs


Oat Bran Concentrate
vs


Rice Bran Concentrate
vs


Psyllium Seed Husks (Plantago Ovata)
vs


Carrot Fiber
vs


L Acidophilus (non-milk source)

250000 ct

(249750 ct higher than average)

vs


Hoodia
vs


Total Dietary Fiber less than
vs


Nopal (Opuntia Ficusindica)
vs


Flaxseed
vs


Glucomannan (Amorphophallus Konjac)
vs


Aloe Vera (Freeze Dried Conc. 1:200) equivalent to 3000 mg of Aloe Vera Inner Gel)
vs


Bromelain 600 GDU
vs